Wednesday night, I had the pleasure of attending the fourth
Blog Out Loud
event.  We talked about all things blogging - where to get inspired, how to advertise yourself, typical dos and donts and so much more.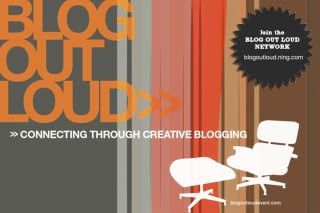 It was hosted at
DWR | Tools for Living
, which is an amazing modern design store in Santa Monica.  
It was so awesome to be in a room filled with people sharing the same interest in blogging as me.  I felt instantly connected with everyone there.
The entire evening was a blast.  I loved getting to explore the store after the Q&A was over.  I was immediately grabbed by this patterned panel that hung behind the registers.  The pop of orange really completes it.
And, isn't this such a unique carpet hanging on the wall!  I adore the look of the messy, handwritten cursive.
There were so many beautiful things to look at during the event and so many things to think about as I walked back to my car.  I'm excited to share with you all the changes that will eventually take place around here as well as in my own life.